Sir Bernard Hogan-Howe to retire as Met police commissioner
Scotland Yard chief will step down in February 2017 after five years in the role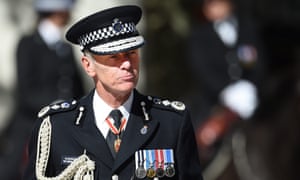 Sir Bernard Hogan-Howe. Photograph: Andy Rain/EPA
Staff and agencies
Sir Bernard Hogan-Howe is to retire after five years as the commissioner of the Metropolitan police, Scotland Yard has announced.
The 58-year-old, who was appointed in September 2011, will stay in his post until February 2017 to allow Amber Rudd, the home secretary, and Sadiq Khan, the mayor of London, to appoint a successor, the force said.
Hogan-Howe said: "I came into this job determined to fight crime and make the MPS the best, most professional police service. I wish my successor well as they take on this amazing responsibility.
"Sir Bernard has had a long and distinguished career as a determined crimefighter and an inspirational senior officer. He has shown remarkable and consistent dedication to public service. Among his many achievements in London was the delivery of a safe and successful 2012 Olympics. I am grateful to Sir Bernard for his dedication and support, and look forward to working closely with him until his retirement next year."